Main Page
"Teach me the way of Your commandments O Lord, and I will keep them. I will live in grace Lord, guard the doors of my limbs that lie open lest the treasure of Your gifts be stolen." (Sh'himo Prayers, Saturday Soutoro)
The following Dioceses of the Malankara Orthodox Syrian Church are following the curriculum available on Talmido:
Announcements
Curriculum Refresher Meeting: Saturday, September 30th at 3PM Eastern
If there are any questions on the curriculum, please reach out to Fr. Jacob Mathew (Director of the Sunday School Curriculum Committee and DSWA Director of Sunday School), Fr. Tenny Thomas (NEAD Director of Sunday School), or send email to curriculum@talmido.org
What is "Talmido"?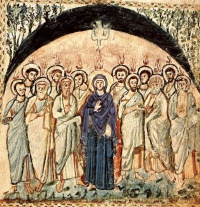 Talmido in Syriac (ܬܰܠܡܝܼܕܳܐ) means disciple.
When it comes to our Faith, we are all disciples of our Lord and Savior Jesus Christ.
Talmido was developed by the American Dioceses of the Malankara Orthodox Syrian Church to provide resources for the revised Sunday School Curriculum. Our vision for Talmido is to become an important tool not just for teachers but for every disciple to learn more about Orthodoxy and our rich Syriac tradition.
Sunday School teachers are using this site to get materials and resources to prepare their teaching lessons.
We also encourage everyone to explore Talmido and learn more about our Faith. Sunday School children can use Talmido to expand their knowledge base, and parents can easily see what their children are learning while enhancing their own faith. Even those not directly associated with the Sunday School program can make use of Talmido to learn the faith, tradition, Holy Bible, and liturgy of the Orthodox Church. Therefore, welcome!
This site aspires to provide a "one-stop shop" for the new curriculum including textbook and lessons, supplementary materials for lessons and topics, Teacher's Guide and Training Tools, songs, liturgical resources, writings of the Fathers in connection to these resources, documents to use in lesson planning, Kahoots, Cross-words, videos, and a lot more. This site is intended to grow over time and we encourage everyone to consider themselves as contributors to this online compendium. If you come across something useful in teaching Sunday School children, please share the resource back to us!
How do I use Talmido?
Talmido reflects an intentional change in philosophy and approach beginning with the Academic Year 2022-2023 Curriculum. We are advancing from a "textbook-centric" educational approach to a "context-driven" Sunday School education where application of learned material will help reach the mastery of each topic via explicit learning outcomes.
Talmido is designed to reflect the curriculum approach that is modeled on Bloom's Taxonomy. Our Sunday School children will grow through various phases of introduction, development, and mastery to become critical thinkers. A Sunday School Diploma holder is expected to defend their faith as well as explore the new avenues of faith through the help of the Holy Spirit. Thus, everyone grows from encountering Christ, to the conviction of faith in Christ, to becoming like Christ or theosis.
Christ is the textbook of faith to live out which is taught in Sunday Schools and therefore every action and fulfillment of Tradition in the life of a faithful become meaningful and purposeful. Talmido caters to this need.
Another important goal of Talmido is to help equip everyone for the shift to a more intuitive Christian Education. If we compare the transition from previous Christian Education systems to this revised Curriculum, it is like the transition from touch-tone cellphones to responsive-display smartphones. As educators and parents understand important concepts such as learning outcomes and scope and sequence, we believe the shift from a "textbook only" approach of catechism to one that encourages educators to use a variety of resources to teach specific goals to children. The textbook therefore is not the primary focus of the curriculum but rather it is Christ and His teachings as given to the faithful.
Overall our mission is for the life of the Church which includes fasting, prayer, and worship to not become burdens but joy and happiness, and for Orthodoxy to not become a compulsion but a conviction.
Answers to some frequently asked questions have also been provided to help you navigate through the site. A recording of the meeting on August 13th to introduce Talmido and the Curriculum Introduction is also available.
Again, if you create new tools to deliver the lessons to your assigned children, or come across something really useful, please go forward with it! Use them and share your experience with the Curriculum Committee. If anything useful is found in the process of raising generations of convinced and committed Orthodox Faithful and you don't see it here, please feel free to let us know! We can't wait to read all your feedback!
Please email resources@talmido.org.